Our Story
FRINJ evolved from a unique working relationship between its co-founder, organic farmer Jay Ruskey and Mark Gaskell, PhD, a California Cooperative Extension Farm Advisor. Ruskey had worked with agricultural scientists since his college days, in the early 90s, collaborating on plant trials of tropical fruits with market potential. Gaskell had previously worked with the U.S. Agency for International Development in Panama, introducing crops, and he wondered if coffee could be a viable crop in California.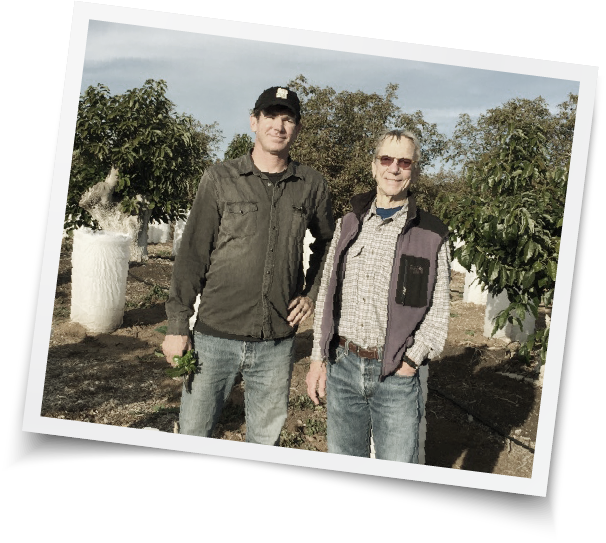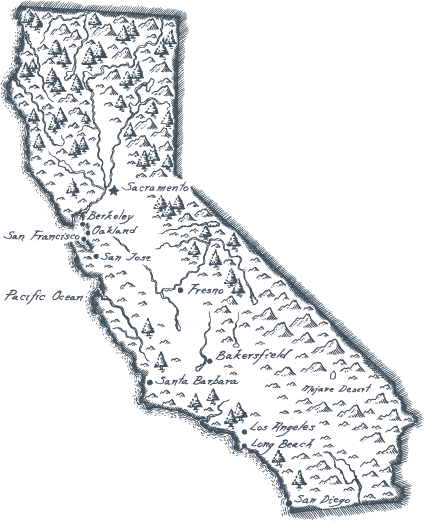 WHY COFFEE GROWN IN SOUTHERN CALIFORNIA IS LEADING THE WORLD IN FRESHNESS AND UNIQUE TASTE
Historically, coffee has never been cultivated this far from the equator. But the Southern California climate around Santa Barbara, where Ruskey's Good Land Organics farm is located, seemed promising.
In 2002, Gaskell gave Ruskey 40 coffee plants from Costa Rican seed. Jumping at the chance to explore the possibilities, Ruskey planted the coffee among his avocado trees, enabling the two plant species to sustainably share water and nutrients.
It takes three to four years for a young coffee plant to bear fruit, and another two years before it produces a viable harvest. Ruskey patiently waited. Coffee cherries appeared, but that was just the beginning. He quickly realized that a lot more work was needed after harvest to process the sweet coffee fruit.
The reality is that high-quality coffee care begins in the field and continues through fermentation, milling, and roasting. Over the course of the next decade, Ruskey and his team acquired the equipment and expertise to process the coffee cherry and make high-quality coffee. FRINJ has created the only coffee business that controls the entire complex process, from the field to the cup, transforming how coffee is produced.
CRAFTING UNIQUELY DELICIOUS COFFEES
Ruskey had years of experience cultivating rare tropical fruit and working on plant trials with researchers at the University of California Cooperative Extension and the California Rare Fruit Growers. His knowledge enabled him to evolve coffee plants that not only survive but also thrive in the climate of Southern California.
Being in California opened opportunities to learn about the growing trends in the specialty coffee market from many experts who were visiting or working locally. Price Peterson of Hacienda Esmerelda, Willem Boot of Boot Coffee, and Dan Cox of Coffee Enterprises were some of the many people that mentored Ruskey and the FRINJ team, helping them to learn and thrive in the coffee arena.
Coffee is not easy to grow and has been largely ignored by much of the scientific community. Providing the best plants to farms, for viable growth and delicious coffee, is essential for California's success. FRINJ is building California's coffee industry through careful observation of cultivars, plant selection, and traditional breeding of coffee plants.
Caring at every stage of this evolution, which took more than 20 years, has borne fruit — exceptional coffee. The quality of FRINJ coffee now rivals the world's top coffees.
The coffee plant is grown differently in California than anywhere else in the world. First and foremost, the coffee fruit takes up to 12 months to mature — twice as long as mass-market coffee. California's long summers and short winters make the coffee fruit some of the sweetest in the world, replicating high mountain-grown coffees in the tropics.
Secondly, like all fruit tree crops in California, coffee is grown with irrigation and all the nutrition it needs to thrive.
Finally, we in California love our crafting. California is known for its wine and beer, and coffee has found a great home in this craft community.
A unique climate, unique cultivation, and a unique process all create a uniquely delicious FRINJ coffee experience.
CALIFORNIA COFFEE
IS EXCEPTIONAL
In 2014, Ruskey submitted one of his coffees for evaluation by Coffee Review, recognized as the world's coffee rating organization. His Caturra 2014 crop was the first California-grown coffee to ever be tested. It was rated 27th in the world with a score of 92, which is considered "exceptional."
This was proof positive: High-scoring coffee could be cultivated in California.
HOW FRINJ BEGAN
As he gained success growing coffee, Ruskey started sharing his knowledge with other farmers in Southern California, making coffee plants and coffee-growing science available to them. Realizing the potential for a California Coffee Industry, Ruskey co-founded FRINJ in 2017.
As a whole systems solutions company, FRINJ needed a large field of expertise, so Ruskey reached out to others for help.
Expert knowledge and experience came from the other co-founders of FRINJ: Andy Mullins in business development, Juan Medrano, PhD, in plant breeding science, and Lindsey Mesta in coffee quality control.
FRINJ creates a transformative experience by connecting coffee drinkers to farmers, propelling the growth of a coffee industry in Southern California.
As the coffee plants bore fruit, FRINJ began to provide all the post-harvest steps that bring out the full flavor of beans and to market farmers' unique coffees.
Today, FRINJ supports more than 65 farmers who are growing coffee in Santa Barbara, Ventura, and San Diego counties as well as many more property owners who are adding coffee to their crops. And the FRINJ coffee movement is inspiring organic and regenerative farming methods.