Geisha FlightCatch a flight from Santa Barbara to Oceanside!
Catch a flight from Santa Barbara to Oceanside and visit coffee farms within the California region. Each bag features a different first-class Geisha, carefully selected to represent the distinct microclimates of California.
Future flights will include other exceptional varieties such as Caturra Rojo, Pacamara, and Laurina.
Net Weight 50g (1.76 oz) per bag
PLEASE NOTE: COFFEE IS SHIPPED WITHIN ONE WEEK OF ORDERING AND WITHIN 2-3 DAYS AFTER ROASTING
Farmers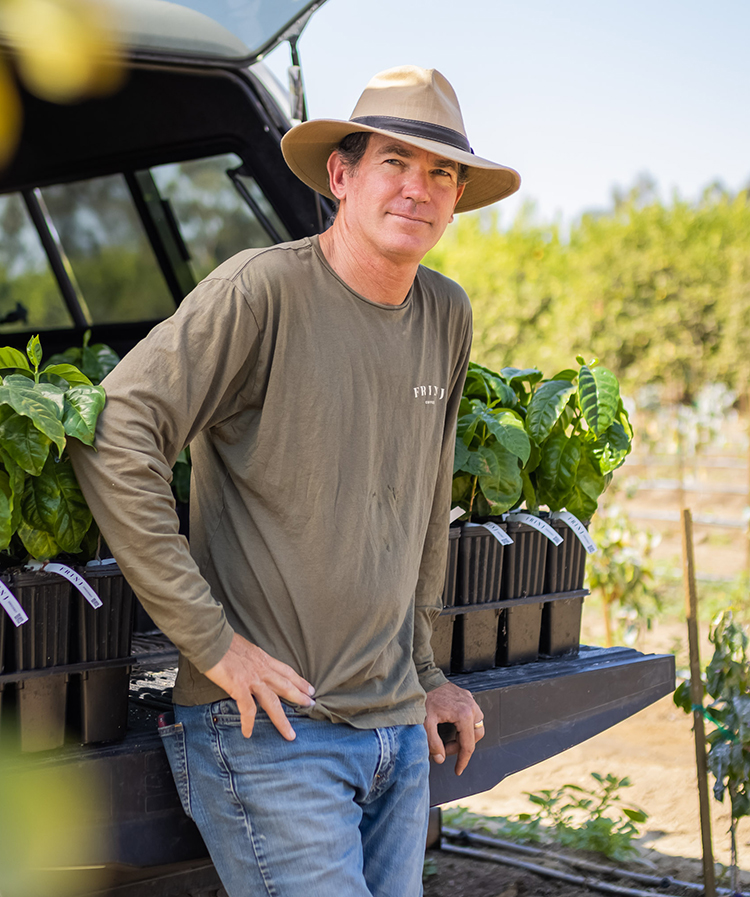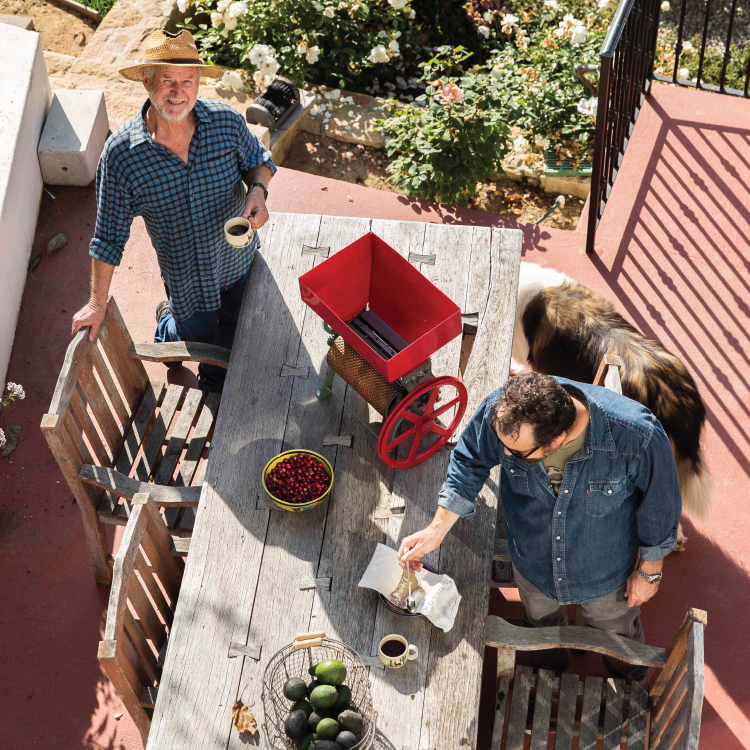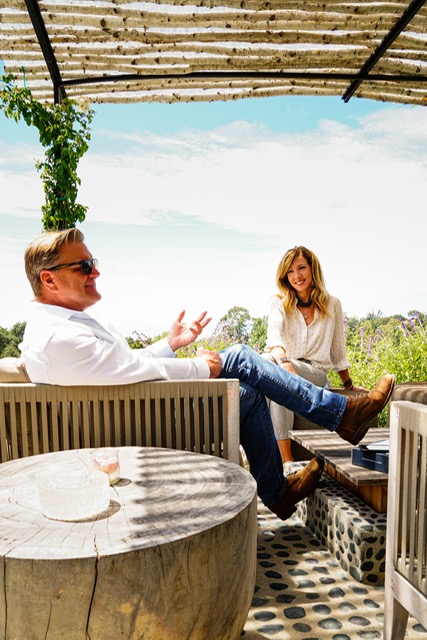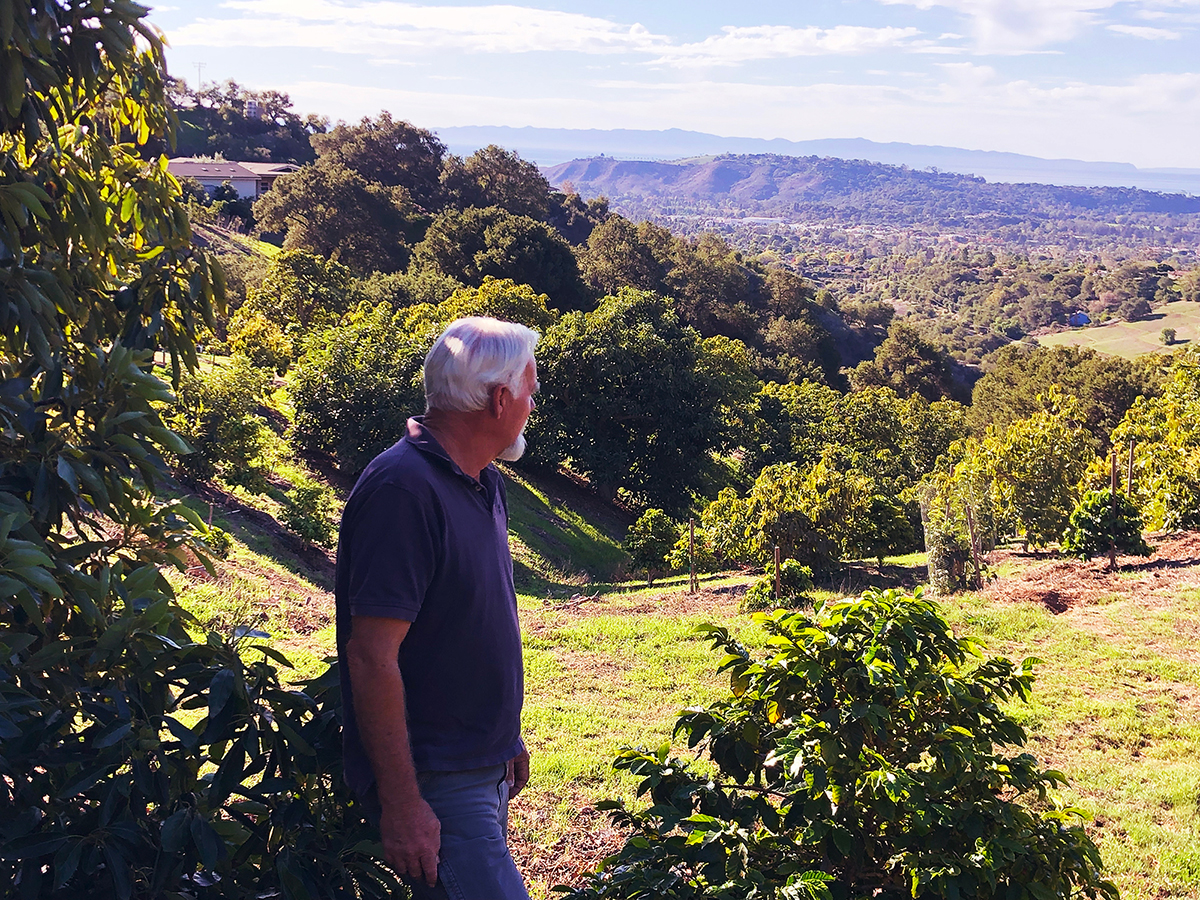 Good Land Organics:
Jay Ruskey
Good Land Organics is the first commercial coffee farm in California.
It is nested in the hills above Goleta, CA, overlooking a majestic view of the Pacific Ocean. Jay Ruskey began farming this land over 25 years ago, and now this organic farm is layered with over a dozen subtropical and exotic crops, contributing to both its diversity and charm. Seasonal fruit can be purchased on Good Land Organic's online store.
Coffee was first attempted as an experiment in 2002, but this crop quickly won the attention of both Jay and the world for its success. After years of trial and error, Jay identified a replicable farming system that consistently produced high-quality delicious coffee. In 2011, he decided to share this crop with farmers across Coastal Southern California. Through his new venture, FRINJ Coffee, Jay and his team are leading the way for California to become the world's next producing coffee region.
Good Land Organics is now the flagship coffee farm and headquarters of FRINJ Coffee. Inc. It is home to over a dozen Coffea arabica varietals which are also the parent plants for our breeding program.
Rancho Delfino Farmers:
Mike and Baba Masino
The farm is named for Mike's father and grandfather. Delfino means "dolphin" in Italian, and since the coffee trees have a view of the ocean, it seems appropriate. The ranch is nestled in Gobernador Canyon, a unique microclimate that protects the coffee plants from summer heat and winter winds. This setting enables coffee beans to remain on the tree for a maximum amount of time to develop their rich, delicious flavors. Since the 1940s, the farm's rich soil has borne avocados and now, the avocado trees also provide shade for the coffee plants.
Valley Heart Ranch:
Kirsten and Darrell Becker
Nestled between the mountains and the sea, Valley Heart Ranch is owned and operated by Kirsten & Darrell Becker and carries a long legacy of farming in Santa Barbara, California.
Agriculture operations at the ranch began in the 1920's with citrus and evolved into a commercial floriculture nursery until 2016 when the unparalleled terroir began its transformation into a certified organic coffee farm. With its unique coastal setting offering cool mornings and warm afternoons, VHR is one the few organic coffee producers in California and the only coffee grower in Montecito.
The heart-shaped valley now boasts several varietals of in-ground lush coffee scattered over five acres of loam soil terraces. With their shared vision now in full operation and a back-to-basics approach to farming, Kirsten and Darrell are thrilled to offer this exquisite product grown with technical expertise and lots of heart.
Southern Ridge Ranch:
Jeff Brown
Farmer Jeff Brown at Southern Ridge Ranch started farming coffee above Santa Barbara. California in 2016. This is the Brown family's first harvest and is a delicious testimony to their hard work in converting on aged avocado grove into a polyculture farm with several cultivars of coffee. This blend is named for the majestic foothills above Santa Barbara. which is referred to by the locals as the 'Riviera' for its subtropical climate and channel island views. Jay Ruskey of Good Land Organics is an agronomist and pioneer who followed a hunch and planted coffee just north of Santa Barbara. Today, Good Land Organics is known as the birthplace of California-grown coffee. The farm is nestled into the hills overlooking the Pacific Ocean in a frost-free microclimate.