Good Land Organics, GeishaGoleta, CA
| | |
| --- | --- |
| Coffee Varietal: | Geisha |
| Tasting Notes: | Coffee blossom, lime, and honey |
Good Land Organics is an exotic fruit farm nestled in the rolling foothills of Goleta. This organic farm was designed as a layered agriculture system, where diversity maximizes the potential of the terrain. Amidst climbing passion fruit, ascending loquats, lush Avocados, and bright pink Dragon fruit, this Geisha draws nutrients from a complex bouquet of soil biology and ecological context. In the cup, the Geisha varietal is classically known for its silky mouthfeel, fruit forward flavor profile, and exquisite cleanliness. This uniquely Californian expression of coffee's darling and gangly shrub is not to be missed.
PLEASE NOTE: COFFEE IS SHIPPED WITHIN ONE WEEK OF ORDERING AND WITHIN 2-3 DAYS AFTER ROASTING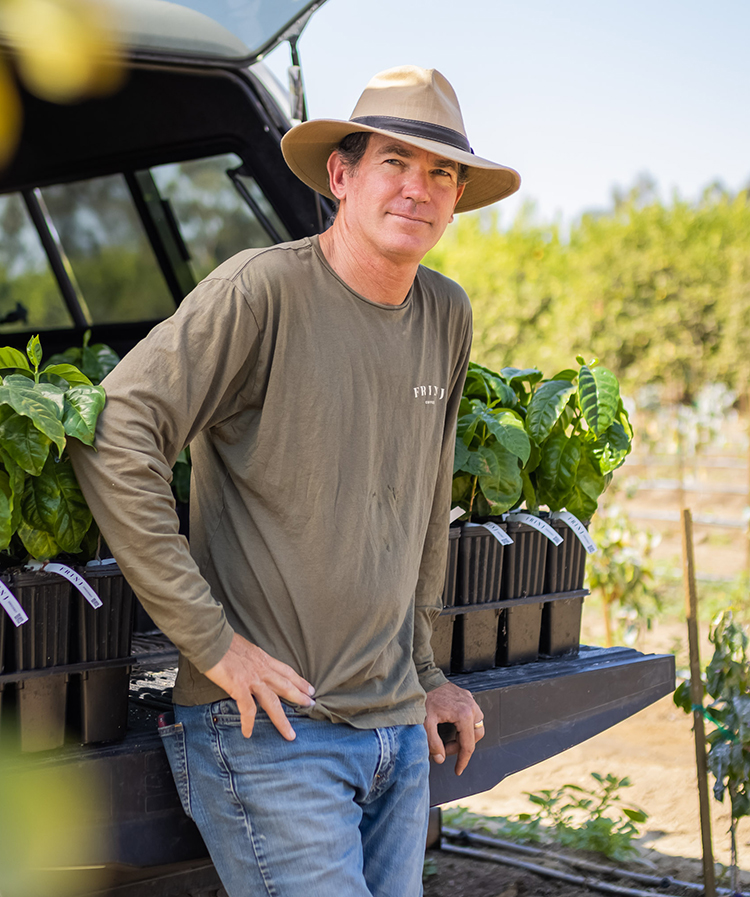 Good Land Organics:
Jay Ruskey
Good Land Organics is the first commercial coffee farm in California.
It is nested in the hills above Goleta, CA, overlooking a majestic view of the Pacific Ocean. Jay Ruskey began farming this land over 25 years ago. This organic farm is layered with over a dozen subtropical and exotic crops, contributing both to its diversity and charm. In season fruit can be purchased on Good Land Organic's online store.
Coffee was first attempted as a trial in 2002, but this crop quickly won the attention of both Jay and the world for its success. After years of trial and error, Jay identified a replicable farming system that consistently produced high-quality delicious coffee. In 2011, he decided to share this crop with farmers across Coastal Southern California. Through his new venture, Frinj Coffee, Jay and his team are leading the way for California in becoming the world's next producing coffee region.
Good Land Organics is now the flagship coffee farm and headquarters of Frinj Coffee. Inc. It is home to over a dozen Coffea arabica varietals which are also the parent plants for our breeding program.