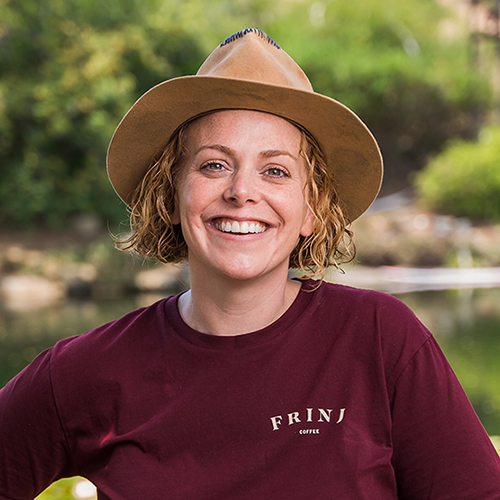 Paige Gesualdo
Paige had a lifelong goal to work in corporate sales, but after she got her dream job she found that she was most happy nerding out about coffee, roasting beans on her popcorn roaster, and trying different coffees from around the world.   So Paige left her career behind and made it her full-time job to take classes at Boot Coffee where she dialed in on her Roasting skills, Barista skills and completed her Q-Grader Certification.
Paige has learned from some of the best in specialty coffee over the last couple years and met Jay spring of 2021 while checking out FRINJ Coffee on a whim. She was ready to start her own roasting company at the time, but after one afternoon touring FRINJ, Paige was so excited by the work she saw that she put aside her own plans and asked Jay how she could help.
Paige loves the many facets of coffee production, from farming to milling, roasting, brewing and connecting with customers. She also loves being a part of the evolution of specialty coffee happening at FRINJ.