Coffee has traditionally been ignored by the much of the scientific community until recently. FRINJ works with global collaborations of researchers to help transform how coffee is grown and prepared. The result is transformative flavors and farming opportunities through FRINJ.
FRINJ coffees have evolved during nearly two decades of natural plant breeding and coffee research. Currently, FRINJ co-founder Jay Ruskey is participating in groundbreaking research that will help coffee farmers in Southern California and around the world.
FRINJ works with the UC Davis Innovation Center and many plant science labs. The company also participates in several lectures at UC Davis on coffee production.
EVOLVING A BETTER COFFEE PLANT
Over the years, Ruskey has received gifts of many well-known and unique coffee seeds from leading individuals and organizations in the global coffee world, who were interested in seeing how coffees fared in California's Mediterranean climate.
Friends of Mark Gaskell, PhD, who gave Ruskey the first coffee seedlings for planting, were among the donors. Marcos Moreno of Finca Don Bosco in Panama gave a collection of Caturra and Typica seeds. Price Peterson of Hacienda Esmerelda, in the Republic of Panama, visited Ruskey's Good Land Organics farm and donated a couple pounds of Geisha seeds. Many Pacamara, Borbones, Laurina, and Catuai cultivars came from El Salvador's national agricultural research organization, PROCAFE, after a visit from Dr. Gaskell.
CUTTING-EDGE FRINJ SCIENCE
FRINJ co-founder and Chief Technology Officer Juan Medrano, PhD, leads the effort to continually improve plant material and keep FRINJ on the cutting edge of coffee science. Dr. Medrano also wears other hats in the world of coffee science, serving as a member of the USDA Coffee and Cacao Crop Germplasm Committee and as a member of the University of California, Davis Coffee Center.
On behalf of FRINJ, Dr. Medrano has cultivated relationships with many farmers and agricultural
research institutions around the world, such as CIRAD in France. These enable FRINJ to trial new hybrid coffees that are being developed globally.
Dr. Medrano also oversees the FRINJ plant breeding program. It includes field studies in Goleta, California, and research in a plant science lab in Davis, California, managed by Marta Matvienko, PhD.
Dr. Medrano and his team worked with Ruskey's coffee plant in the UC Davis Coffee Genome Project, which released the first public genome
sequence for Coffea arabica. This coffee species accounts for more than 70 percent of global coffee production. (FRINJ coffees are different cultivars of Arabica coffee.)
FRINJ Coffee has one of the finest live collections of Arabica coffees in the world that are free of traditional diseases. The FRINJ team has cataloged, selected, and bred coffee to help increase the crop diversity for the future of California coffee and for the future benefits of the global industry.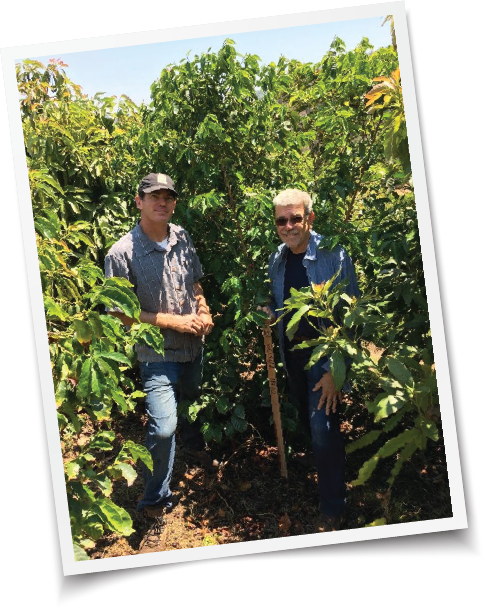 THE GENE TREE FRINJ
Co-Founders with a Special Tree
FRINJ CEO Jay Ruskey (left) and FRINJ CTO Juan Medrano, PhD., stand on either side of a special tree. It provided the plant material that was used to sequence the genome of Arabica coffee. With this research, says Medrano:
"We're bringing coffee to the leading edge of innovation."
THE COFFEE GENOME SOLVES A BIG PROBLEM
Hundreds of thousands of farms in coffee growing regions are facing turbulent conditions stemming from climate change and plant diseases. The Arabica coffee genome, available in a public database, can freely be used by scientists worldwide to help farmers meet current and future growing challenges and improve their coffee production and lives.
For FRINJ, the research helps in the development of new coffee cultivars that are especially suited for growth in Southern California, helping to propel a new coffee industry in the region. The current goals of the FRINJ breeding program are to improve plants' cold resistance and vigor and to enhance cup quality.