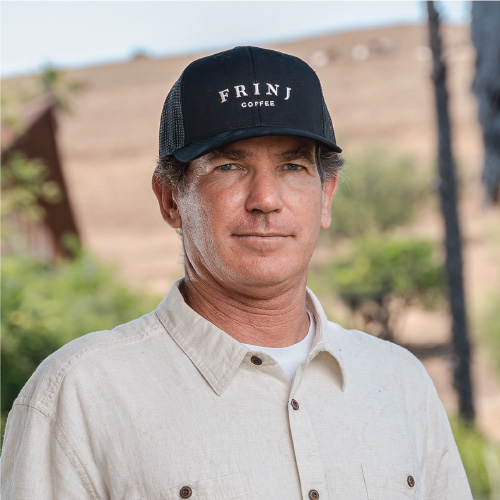 JAY RUSKEY
Chief Executive Officer and Co-Founder
Agricultural Innovator,
Organic Farmer Good Land Organics, Goleta, CA
Ruskey began his farming career in high school, studying geology and working long hours on flower farms during the summer. While obtaining his degree in agricultural business at California Polytechnic State University in San Luis Obispo, he began managing his family farm, Good Land Organics, and selling avocados and cherimoyas at 4 or 5 farmers markets each week.
After graduation, he took on a leading role in California's fledgling 1990s sustainable farming movement while contributing to scientific plant research and expanding the range of rare fruits on his farm. Since planting his first 40 coffee seedlings in 2002, Ruskey has developed coffee cultivars that thrive in the region, produce unique coffees that rival the world's best, and enable California farmers to create a new coffee industry in the state.
Ruskey's farm has set the example of a layered agricultural system that offers new opportunities for many California farmers but is not being utilized yet at scale. This layered system improves climate resilience by including other species of plants to protect the coffee from turbulent weather conditions. At the same time, it builds healthier soils and uses valuable water and nutrients in a more sustainable way.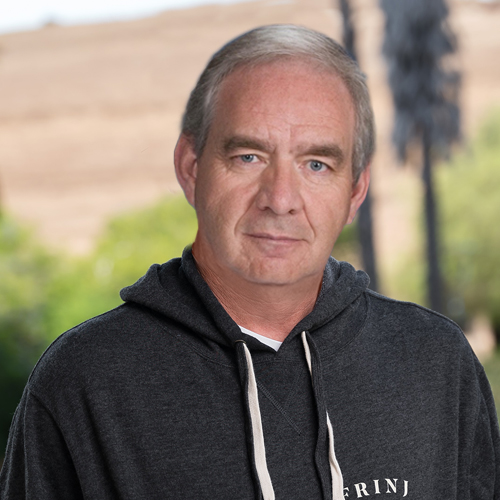 ANDY MULLINS
Co-Founder
Business Leader, Organic Farmer
The Mullins Family Farm, Temecula, CA
A business leader with extensive experience delivering world-class financial results at the executive level, Mullins is adept in creating products and services that attract and retain customers, excite and motivate employees, and satisfy and enrich investors. After graduating in math and computer science from Concord University in Athens, West Virginia, he spent years in top-level executive positions in the telecommunications and tech industries.
In 2012, with his wife Linda, Mullins also became an organic farmer at The Mullins Family Farm. After meeting Ruskey in 2017, he was intrigued by the potential to grow coffee and help create a new, science-forward coffee industry in the region. He became a co-founder of FRINJ and planted coffee on his farm, in the shade of avocado trees, with squash growing beneath.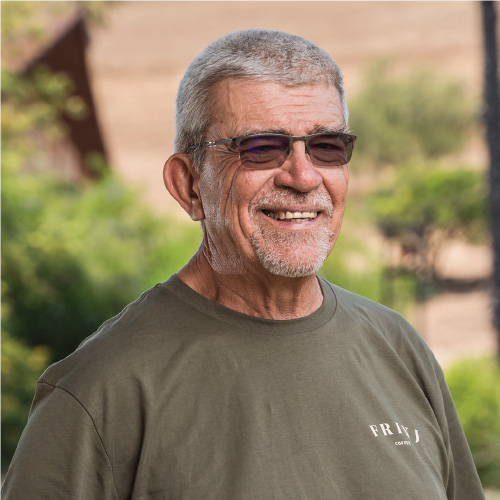 JUAN MEDRANO, PhD
Co-Founder
Coffee Scientist, Professor Emeritus at the University of California, Davis
Dr. Medrano's research at UC Davis has focused on animal and plant genomics. More specifically, he has worked on the application of next-generation sequencing technologies to study the genetic variation of complex traits, such as the nutritional and health components of milk, and the quality and production properties of coffee. He is the lead investigator in a project to sequence the genome of Coffea arabica and to study genetic variations of coffee cultivars grown in California.
Dr. Medrano received a degree in agriculture from Zamorano University in Honduras, and an MS in Animal Science and a Ph.D. in Genetics from the University of California, Davis. Following his graduate work, he was a post-doctoral fellow at the Institute of Nutrition of Central America and Panama (INCAP) in Guatemala.
Dr. Medrano was a faculty member at the University of California, Davis from 1985 to 2018. Currently, he serves as a member of the USDA Coffee and Cacao Crop Germplasm Committee and is a member of the UC Davis Coffee Center.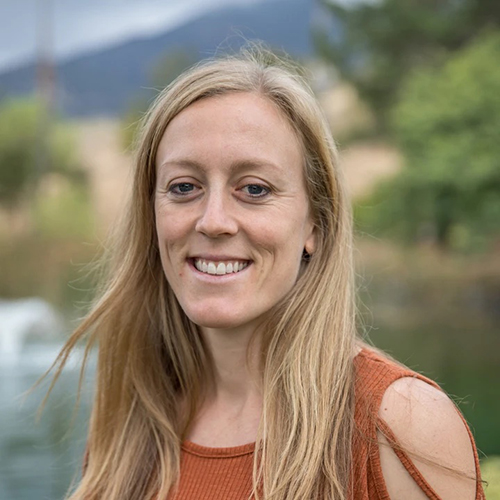 Lindsey Mesta
Co-Founder, Quality Control
Lindsey Mesta has spent ten years working directly in the development of California's coffee industry. Her role has encompassed nearly every phase of the coffee lifecycle from post harvest, roasting, QC, sales, branding, marketing, strategy, and now as one of the founders of FRINJ Coffee. Today, her primary role is QC and consulting. She loves experiencing the nuances in each cup and reflecting on the passion it required to get to her. Each cup has its own story to unfold. As the years progress, FRINJ farms and our post harvest team are producing more beautiful, layered, and vibrant cups. For her, it is as exciting as it is rewarding to be part of this team. Ultimately, she dreams of California coffee being established as one of the world's highest scoring coffee producing regions. And she hopes that when her two young boys are grown , she can share a cup of California grown coffee with them and reflect on the journey the FRINJ family undertook to make this happen.
FRINJ TEAM MEMBERS
Click on images for bios.