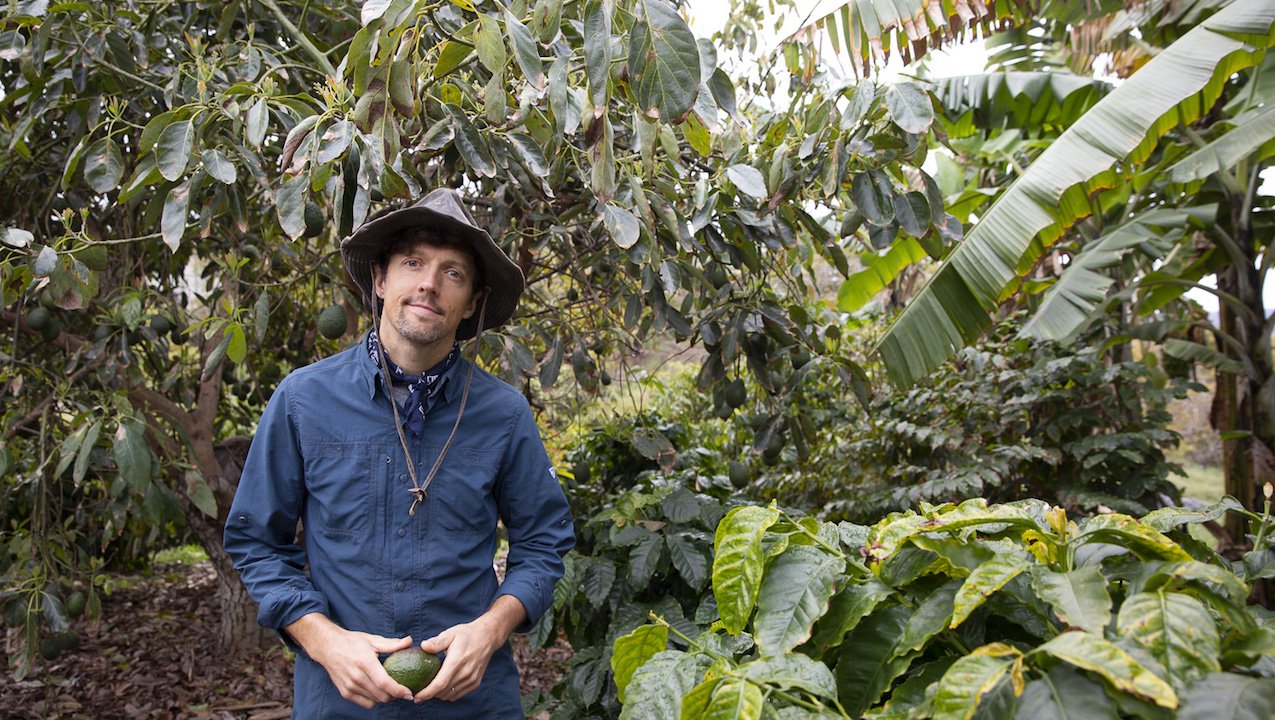 Mraz Family Farms: Farm Story
ORIGIN STORY
Back in 1999, I started my music career singing in coffee shops. And although I've graduated to much larger venues all over the world, I still find familiar comfort in neighborhood coffee shops when I'm lucky enough to have downtime on the road.
In 2004, I purchased land in North County San Diego in the historically agriculture-rich region of San Luis Rey Valley, first farmed in the 18th century by Spanish explorers. I intended to start a compound, to serve as a home to musicians & artisans to cultivate music, community, & craft. After a decade of stewardship & good farming practices, the land became affectionately known as The Mranch, blossoming into an organic, multi-layered food-forest.
In 2015, with the help of family & friends, Mraz Family Farms was established to produce a diverse array of organic fruits in a sustainable & conscious fashion. At that time, we planted our first coffee trees & teamed up with Frinj Coffee to help us grow high quality, single-origin varietals for serious coffee enthusiasts.
In essence, I began both of my careers in coffee & music 20 years ago.
COFFEE ON THE FRINJ
Up until recently, coffee had never been produced in the continental United States, mostly due to the cost involved. Growing anything in California requires huge investments in labor & water, which contributes to the overall price of a crop. California Coffee grown any sooner in history would've made it the most expensive coffee in the world, just by necessity, so it was never considered.
In developing countries, conflict regions, & the tropics, labor & water expenses are lower, making coffee seem cheap & abundant: ideal for the bottomless cup. But now thanks to education, fair trade, & an increased demand for rare, high-quality varieties, coffee consumption & pricing is changing along with the climate.
An attitude that coffee should be cheap no longer serves humanity.
Currently, an estimated half of the 25 million smallholder coffee farming families around the world live below the internationally recognized poverty line (source: thechaincollaborative.org). It's time for coffee to be understood, appreciated at its true value, & traded at its true price to uplift & sustain coffee-producing communities.
For many, growing coffee is a means for survival as much as it is an opportunity. In today's climate, labor & water are more expensive than ever in our region. Most California farmers have multiple jobs to make ends meet. And many farmers seek methods of diversification to make ends meet. For myself & many of my neighbors, inter-planting coffee in our existing avocado orchards is that opportunity. It's possible that the coffee plant migrated to California to help keep agriculture thriving, & for some California farmers, it has become a chance for survival.
I like to think of coffee as an ally to human productivity.
In California, on the fringe of the tropics, we don't have altitude, but we do have latitude. Our winter season cools us down & extends the maturation periods for as many as 12 months from flower to finished fruit. Year-round care culminates in a tedious, color-specific, hand-picked harvest process. This is only the first of many steps in becoming a drinkable cup of coffee. Our 2019 crop is our virgin crop. Some consider this to be a delicacy since the land hasn't had repeated harvests & over-fertilization. Our timing & our small lot make us one of the newest & rarest on the planet.
Frinj works around the clock to monitor the many changing variables of the post-harvest. The roaster also has a lot of power in the process, as it's their job to understand & predict the complexities of the flavors. And finally, the barista has the final impact on the perfect delivery of a well-loved & cared for a cup of coffee. Specialty coffee requires trust & skill at every point in the process.
After 20 years, it is an honor & a thrill to still be sharing my joy in coffee shops.
It's been quite a journey so far, & I'm just getting started.