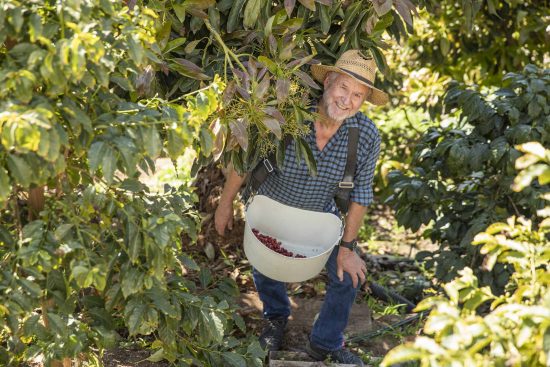 California is Growing High-Quality Gesha & It's Selling Out
More than 70 farms are putting in the extra work to successfully grow three varieties of Gesha in California.
Every day, farm owner Mike Masino steps outside into a sweet aroma coming from his steep farm terrain of blooming coffee plants. The Santa Barbara, Calif.-based farm is filled with rows of avocados and shrubs with Gesha coffee cherries that he hand-picks himself. The Gesha has a rich, jasmine-like scent, and has tasting notes of honeycomb, bergamot, and vanilla cola.
"The first pourover we ever had was Gesha. Both my wife and I hadn't ever experienced a coffee like that in our lives," says Mike, who has partnered with Jay Ruskey to grow Gesha for Ruskey's brand, Frinj Coffee. "It's a lot of work, it doesn't produce a lot of cherries, but the cherries are so sweet. I just really love that coffee."